There's always something to report at BKL. Catch up on the most important BKL news, for example on the latest cranes, reports on special operations, events and the latest BKL messages. Keep up to date on all our topics and sign up to our BKL News e-mail:
Cranes
NEW AT BKL: LUFFING JIB CRANES.
Even more flexibility for your projects: our large range of tower cranes now also includes luffing jib cranes. This allows our tower crane specialists to offer you even more precisely fitting crane solutions for tight construction sites with several cranes. The luffing jib and a small rotating radius mean that you can avoid swinging over other properties. The kick-off for the expansion of our range was at bauma 2022: with the SLH 70.4 and the SLH 205, two machines of this construction type were exhibited there by BKL.
tower crane hire
Company
BKL Film receives German Business Film Award 2022.
The video, shot in cinema quality, prevailed in the top three against more than 70 entries in the category "Economy Well Presented". The German Business Film Award is one of the oldest German film prizes. It is presented annually by the Federal Ministry of Economics and Climate Protection. The award ceremony took place on 25 October at the Tipi at the Federal Chancellery in Berlin.
Awards
Events
BAUMA 2022: Great novelties and hollywood feeling.
At our 15th Bauma show, we launched several huge new arrivals and unveil the 35-metre CM 350 self-erecting crane and a double innovation in the top-slewing crane segment.
Developed for the digital transformation of the construction site, the Industry 4.0-ready CM 350 is making its world debut. One of the first of its kind worldwide, the SLH 70.4 represents a new product group and expands our fleet with luffing jib cranes. Moreover, visitors to stand FS.1203/1 were thrilled by the brand new BKL film on a giant screen, as well as the making of the film.
To the exhibits
Cranes
NEW CRANES FOR YOUR PROJECTS.
Hire the most suitable crane for your project at any time. We permanently broaden our crane park by new cranes and modern technology - for example:
»
BKL Hildesheim with a new LTC 1050-3.1 with rope pull technology.
»
Brand new bottom slewing crane
H 32
for rent or purchase.
»
New
LTF 1045-4.1
now at BKL Ingolstadt and BKL Frankfurt.
You are interested in our new arrivals? Please contact us:
info@bkl.de
or 0800 997 1200.
crane finder
Events
BKL MARKS ITS ANNIVERSARY FAIR WITH A NEW STAND AT BAUMA 2022.
From 24 to 30 October 2022, we will present our huge range of tower cranes, mobile cranes, mobile construction cranes and crane services at bauma. On our 15th trade fair anniversary, we welcome you as main exhibitor at stand FS.1203/1 in the outdoor exhibition area South. Discover outstanding service and innovative technology up close and be excited about the novelties in 2022!
bauma 2022
Job report
Spectacular lift near Lake Ammersee.
In autumn 2021, the mobile crane experts from BKL Munich carried out a very special crane project at the Raisting Radome. An LTM 1650-8.1 lifted a new membrane onto the industrial monument on behalf of ITF Innovative Technical Fabrics GmbH. Liebherr also covered the exciting lift in a video.
Image source: Liebherr
Job report
Company
BKL TO TAKE OVER SÁEZ DEALERSHIP.

As of 1 March, BKL is the official sales partner for tower cranes from the Spanish manufacturer Grúas Sáez from Murcia. From now on, you can not only hire tower cranes from Sáez at BKL, but also purchase them - both used and new cranes. For BKL is now the exclusive dealer for Germany and Austria. The signing of the contract by the owners Laura Canovas Sáez and Alexander Volz took place in February in Murcia, Spain.
Saez
CURRENT CERTIFICATES.
Current certificates DIN EN ISO 9001 and SCCP (Safety Certificate Contractors - unrestricted certificate petrochemistry) for download.
References
BKL ON THE GROUND FOR TERMINAL 3, FRANKFURT AIRPORT.
BKL is participating in the construction of the new Terminal 3 at Fraport with twelve tower cranes and several hundred mobile crane operations. The construction project is currently one of the largest privately financed infrastructure projects in Europe.
Learn more about the projekt and other references:
References
Accessories
NEW CRANE ACCESSORIES.
Our range of crane parts and services is also growing steadily.
New for you to hire: our assembly and crane platform with 20 tonnes maximum load capacity. With dimensions of 2.9 metres wide and 5.5 metres long, the heavy-duty platform specially made for BKL is ideally suited, for example, for machine insertion - and other various construction and industrial applications.
PARTS AND ACCESSORIES
App.
Our German app 'Mein BKL' offers numerous useful, crane-related functions and services while on the go. Find the right tower or mobile crane, plus the technical specifications, for your building requirements, your personal BKL lift contact or tailored crane services – easy, free of charge and at the touch of a button.

Available for iOS (from version 10) and Android (from version 5.0)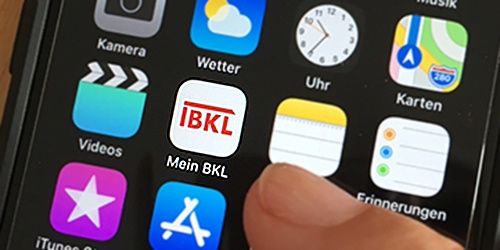 Read previous reports on our mobile crane, self-erecting and top-slewing crane operations plus other news about BKL.