News: BKL 9 times in Germany.
From December 1, we will be there for you from two new locations and are expanding our range of cranes. Find out more and enquire now:
Find out more about us here:
About BKL.
Founded in 1969, BKL specialises in crane hire, sales and service, with over 50 years in the business. The foundation of our success are over 360 employees at nine locations and our fleet of cranes. More than 500 tower cranes from 13 to 1000mt from the top European manufacturers Liebherr, Sáez, Potain and Cattaneo, as well as over 130 all terrain mobile cranes right up to 700 tonne giants and over 25 MKs up to MK140, make it one of the largest, most state-of-the-art hire fleets in Europe. However, BKL customers do not merely benefit from the wide selection of young machines – which are less prone to breakdowns – but also first and foremost from our expert advice and comprehensive service. BKL offers a bespoke turnkey package of crane services, from erection to transportation, right through to our 24-hour emergency response.
Executive Management:


Johanna Lauter


Robert Popp


Jörg Hegestweiler
Picture: Executive Management f.r.t.l.
Advisory Board:


Alexander Volz (Chairman of the Advisory Board)


Dr. Michael Hönig


Thomas Schweiger
Picture: Alexander Volz
With cranes all over Germany and Europe, here is an overview of our strategic locations:
---
MUNICH
BKL SOUTH
---
T: +49 8121 2248–0
E: info@bkl.de
Römerstr. 22
D-85661 Forstinning n. Munich
INGOLSTADT
BKL South
---
T: +49 841 881315–300
E: ingolstadt@bkl.de
Ferdinand-Braun-Str. 38
D-85053 Ingolstadt
ROSENHEIM
BKL South
---
T: +49 8031 2261040
E: rosenheim@bkl.de
Am Eschengrund 5
D-83135 Schechen
FRANKFURT
BKL CENTRE/WEST
---
T: +49 69 1534784–400
E: frankfurt@bkl.de
Silostr. 50
D-65929 Frankfurt
ASCHAFFENBURG
BKL CENTRE/WEST
---
T: +49 6073 725786-0
E: aschaffenburg@bkl.de
Aschaffenburger Str. 35
D-64832 Babenhausen
Nuremberg
BKL CENTRE/WEST
---
HANOVER
BKL NORTH/EAST
---
T: +49 511 3881908–600
E: hanover@bkl.de
Sokelantstr. 23
D-30165 Hanover
HILDESHEIM
BKL NORTH/EAST
---
T: +49 5121 9313-0
E: hildesheim@bkl.de
Brückenstr. 11
D-31180 Giesen
History.
»

1969:

Jürgen Volz starts off in Munich by distributing Edilmac top-slewing cranes, soon branching out to self-erecting cranes by Edilmac and Ferro.

»

1980:

The comprehensive hire fleet of tower cranes continues to grow.

»

1990:

Raimondi top-slewing cranes are added to the hire fleet. BKL now erects cranes all over Germany.

»

1994:

Beginning of the partnership with Luigi Cattaneo S.p.A.

»

1995:

Alexander Volz takes over executive management of the company.

»

1999:

The mobile fleet is extended to include 300 tonne cranes for erections and hire (new service)

»

2001:

Liebherr cranes are also added to the fleet

»

2010:

The first regional office opens in Frankfurt am Main.

»

2011:

Manufacturer-independent focus with 50 new cranes from Comansa, Liebherr, Potain, Wolffkran and Cattaneo. BKL tower cranes are now also located in Hanover.

»

2012:

BKL launches the BKL System Cattaneo as exclusive distributor for Germany and Austria

»

2014:

The fourth BKL location opens in Ingolstadt.

»

2018:

The fifth BKL location opens in Rosenheim. BKL presents its new German App "Mein BKL".

»

2019:

For its 50th anniversary, BKL remains on a growth track: with the new location Hildesheim, tower cranes over 1000 metric tonnes and more than 600 cranes in the rental fleet.

»

2020:

With the first LTM 1650-8.1 in Germany, the crane specialist now offers mobile cranes up to 700 tonnes for hire. BKL is awarded multiple times for innovation and growth.

»

2021:

BKL Frankfurt moves into its brand new building.

»

2022:

BKL takes over Sáez dealership, marks its 15th bauma participation and adds luffing cranes to its portfolio.

»

2023:

Three new locations in Aschaffenburg, Nuremberg and Ansbach.
AWARDS.
BKL has also impressed the juries of prestigious innovation and business awards. In 2023, we were recognised for the fourth time in a row as one of Germany's most innovative SMEs in the ranking published by WirtschaftsWoche magazine. In 2020, we were named a "Top Innovator 2020" and one of "Bavaria's Best 50", in addition to winning the "Grand Prix of Medium-Sized Enterprises". These accolades motivate us to promote new, groundbreaking developments day in, day out, to offer the best possible service for your projects.
Press Area.
We are a hive of activity. The latest BKL press releases and operation reports are available for journalists here.
Jobs & Apprenticeships.
Do you want to join our highly motivated team or get trained by specialists? Just take a look at our current job and apprenticeship offers:
App.
Our app 'Mein BKL' offers numerous useful, crane-related functions and services while on the go. Find the right tower or mobile crane, plus the technical specifications, for your building requirements, your personal BKL lift contact or tailored crane services – easily, free of charge and at the touch of a button.

Available for iOS (from version 10) and Android (from version 5.0)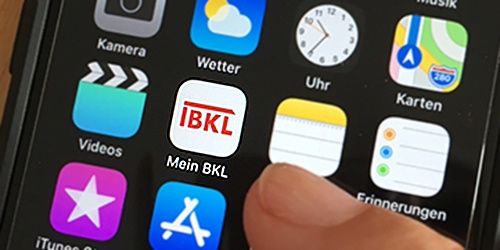 Downloads.
Download our catalogues and flyers, as well as useful forms for all aspects of crane operation: