Cranes: we know the ropes.
Hiring, selling and erecting cranes is what BKL has been doing for 50 years, aiming to find the best-fit solution for each and every project. Today, customers throughout Europe rely on our over 600 cranes and experienced specialists – from the local entrepreneur right up to the big names of the construction sector and industry.

That is important to us. After all, although we are now one of Europe's largest crane service companies, we practice our culture as a family-owned business. We place enormous emphasis on partnership in our dealings and maintain personal relationships, particularly with our customers. Take this opportunity to get to know us.
BKL NEWS:
There's always something to report at BKL.
Find out more about us here:
About BKL.
Founded in 1969, BKL specialises in crane hire, sales and service, with nearly 50 years in the business. The foundation of our success are approximately 300 employees at six locations and our fleet of cranes. More than 500 tower cranes from 13 to 1000mt from the top European manufacturers Linden Comansa, Liebherr, Potain, Wolffkran and Cattaneo, as well as over 100 all terrain mobile cranes right up to 500 tonne giants and 10 MKs up to MK140, make it one of the largest, most state-of-the-art hire fleets in Europe. However, BKL customers do not merely benefit from the wide selection of young machines – which are less prone to breakdowns – but also first and foremost from our expert advice and comprehensive service. BKL offers a bespoke turnkey package of crane services, from erection to transportation, right through to our 24-hour emergency response.
Executive Management:


Jörg Hegestweiler


Franz Schwaiger


Robert Popp
Picture: Alexander Volz (Chairman of the Advisory Board)
With cranes all over Germany and Europe, here is an overview of our strategic locations:
---
MUNICH
BKL SOUTH
---
T: +49 8121 2248–0
E: info@bkl.de
Römerstr. 22
D-85661 Forstinning n. Munich
INGOLSTADT
BKL South
---
T: +49 841 881315–300
E: ingolstadt@bkl.de
Ferdinand-Braun-Str. 38
D-85053 Ingolstadt
ROSENHEIM
BKL South
---
T: +49 8031 2261040
E: rosenheim@bkl.de
Am Eschengrund 5
D-83135 Schechen
FRANKFURT
BKL CENTRE/WEST
---
T: +49 69 1534784–400
E: frankfurt@bkl.de
Silostr. 50
D-65929 Frankfurt
HANOVER
BKL NORTH/EAST
---
T: +49 511 3881908–600
E: hanover@bkl.de
Sokelantstr. 23
D-30165 Hanover
HILDESHEIM
BKL NORTH/EAST
---
T: +49 5121 9313-0
E: hildesheim@bkl.de
Brückenstr. 11
D-31180 Giesen
For both crane hire and purchase, numerous prestigious companies in Germany and Europe rely on BKL's crane solutions and expertise. Going all the way back to 1969.
History.
»

1969:

Jürgen Volz starts off in Munich by distributing Edilmac top-slewing cranes, soon branching out to self-erecting cranes by Edilmac and Ferro.

»

1980:

The comprehensive hire fleet of tower cranes continues to grow.

»

1990:

Raimondi top-slewing cranes are added to the hire fleet. BKL now erects cranes all over Germany.

»

1994:

Beginning of the partnership with Luigi Cattaneo S.p.A.

»

1995:

Alexander Volz takes over executive management of the company.

»

1999:

The mobile fleet is extended to include 300 tonne cranes for erections and hire (new service)

»

2001:

Liebherr cranes are also added to the fleet

»

2010:

The first regional office opens in Frankfurt am Main.

»

2011:

Manufacturer-independent focus with 50 new cranes from Comansa, Liebherr, Potain, Wolffkran and Cattaneo. BKL tower cranes are now also located in Hanover.

»

2012:

BKL launches the BKL System Cattaneo as exclusive distributor for Germany and Austria

»

2014:

The fourth BKL location opens in Ingolstadt.

»

2016:

BKL is represented at the Bauma for the 13th time and now owns over 400 tower cranes, more than 60 mobile cranes and MKs.

»

2018:

The fifth BKL location opens in Rosenheim.
Quality and safety are our number one priority. And that's official: BKL has been certified in accordance with
DIN EN ISO 9001
and
SCC

P
(Safety Certificate Contractors – unrestricted certificate for the petrochemical industry).
This means that, at BKL, you can be sure of getting the highest service quality and maximum safety, whether you are looking to hire a tower or mobile crane, need transportation including management of all necessary permits or utilise our range of services from erection through to repairs and maintenance.
As a member of the BBI, the VDBUM and the BSK, we are always up to date on the latest developments in tower cranes, mobile cranes, heavy haulage, the trade and hire of construction machinery. At the same time, we take advantage of the training opportunities for our personnel to ensure that our service is invariably of the highest standard. Furthermore, as one of the leading crane specialists, at BKL, we regard it as our responsibility to play an active role in promoting the industry in our common interest.
Press Area.
We are a hive of activity. The latest BKL press releases and operation reports are available for journalists here.
Jobs & Apprenticeships.
If you want to reach the top and achieve great things, why not join our team in Munich, Frankfurt, Hanover, Ingolstadt or Rosenheim? We offer excellent prospects, for example as an
»

electrician/mechatronic engineer (m/f) in Forstinning near Munich, Frankfurt or Hanover

»

Apprentice mechatronic engineer for construction machinery (m/f) in Forstinning near Munich
App.
Our new German app 'Mein BKL' offers numerous useful, crane-related functions and services while on the go. Find the right tower or mobile crane, plus the technical specifications, for your building requirements, your personal BKL lift contact or tailored crane services – easily, free of charge and at the touch of a button.

Available for iOS (from version 10) and Android (from version 5.0)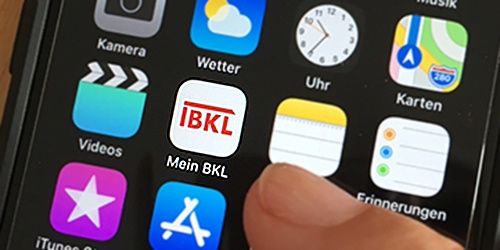 Downloads.
Download our catalogues and flyers, as well as useful forms for all aspects of crane operation: