There's always something to report at BKL. Catch up on the most important BKL news, for example on the latest cranes, reports on special operations, events and the latest BKL messages. Keep up to date on all our topics and sign up to our BKL News e-mail:
Company
BKL 9 times in Germany.
From December 1, we will be there for you from two new locations - after years of cooperation, Kran-Knoll will now become BKL. You can now also get our crane solutions in Nuremberg and Ansbach. And not just mobile cranes, but also our more than 500 tower cranes and the BKL service.
Image: Christoph Vohler / BKL Baukran Logistik GmbH
Crane finder
Company
INDUSTRIAL ASSEMBLY AND MACHINE TRANSPORT WITH BKL.
In addition to machine transport and lifting with our own cranes, we now also offer industrial assembly throughout Germany as an additional service. Our team of experienced mechanical and plant engineers as well as truck and mobile crane drivers will take care of everything you need to commission your systems: From planning to relocation, move-out & move-in through to assembly. And if you wish, we can also provide you with maintenance support.
Industrial assembly
Cranes
NEW MACHINES FOR YOUR PROJECTS.
Hire the most suitable crane for your project at any time. We permanently broaden our crane park by new cranes and modern technology - for example:
»
An
LTM 1120-4.1
adds to the fleet at BKL Munich.
»
Multiple new ballast semi-trailers for even more efficient transport of rental and customer cranes.
»
Two
MK 88-4.1
and two
MK 140
for the fleet in Bavaria and Hesse.
You are interested in our new arrivals? Please contact us:
info@bkl.de
or 0800 997 1200.
Image source: ES-GE Nutzfahrzeuge GmbH
crane finder
Company
A strong trio for BKL.
As of the second quarter, BKL Baukran Logistik GmbH, based near Munich, has a three-person management team. Newest member Johanna Lauter is responsible for the company's financial operations, alongside management duo Jörg Hegestweiler and Robert Popp.
Image source: Christoph Vohler / BKL Baukran Logistik GmbH
Job report
BKL crane solution for the historic city centre.
Narrow streets and closely lined buildings - construction sites in historic old towns require a tailor-made crane selection. This was the case with the renovation of the former Geyerswörth Castle building in Bamberg, where BKL's rental specialists provided the crane solution.
Image source: Liebherr
Job Report
Cranes
FOUR ACES FOR YOUR LIFTS.
As of now, four brand new mobile construction cranes are ready for you: Two MK 88-4.1 and two MK 140 expend our fleet in Bavaria and Hesse. The taxi cranes with radii of up to 65 metres and hook heights of up to 94 metres are perfect for short jobs with projecting edges and little space. And by the way: our new MK 88-4.1 can also be powered by site electricity and thus work without CO² emissions and are exceptionally quiet on site - a real advantage on inner-city or night construction sites, for example.
Are you planning, for example, a green roof, steel construction work, flat roof renovation or roof renewal? We offer you over 20 mobile construction cranes throughout Germany.
Image source: Liebherr
Mobile crane hire
Company
OUR MAIN GOAL? BEING CLOSE TO OUR CUSTOMERS.
From now on, we offer you even more service for mobile and tower cranes in the Rhine-Main region - and beyond. With BKL Aschaffenburg, we are there for you from seven locations in Germany. Contact us for your crane solution - our team is looking forward to meeting you!
How to reach us:
---
Aschaffenburg
Centre/West
---
CURRENT CERTIFICATES.
Current certificates DIN EN ISO 9001 and SCCP (Safety Certificate Contractors - unrestricted certificate petrochemistry) for download.
Company
THE BKL FILM: WHY OUR CUSTOMERS SLEEP BETTER.
BKL is a partner to rely on. We go above and beyond in our cinema-quality film. Guaranteeing plenty of thrills, it features two large cranes in the middle of the night in Frankfurt city centre – and ends with an unexpected twist.
The video, shot in cinema quality, prevailed in the top three against more than 70 entries in the category "Economy Well Presented" at the German Business Film Award, one of the oldest German film prizes.
To the film & making-of
App.
Our German app 'Mein BKL' offers numerous useful, crane-related functions and services while on the go. Find the right tower or mobile crane, plus the technical specifications, for your building requirements, your personal BKL lift contact or tailored crane services – easy, free of charge and at the touch of a button.

Available for iOS (from version 10) and Android (from version 5.0)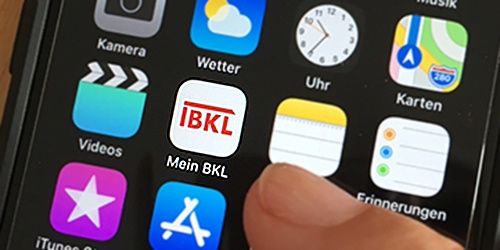 Read previous reports on our mobile crane, self-erecting and top-slewing crane operations plus other news about BKL.